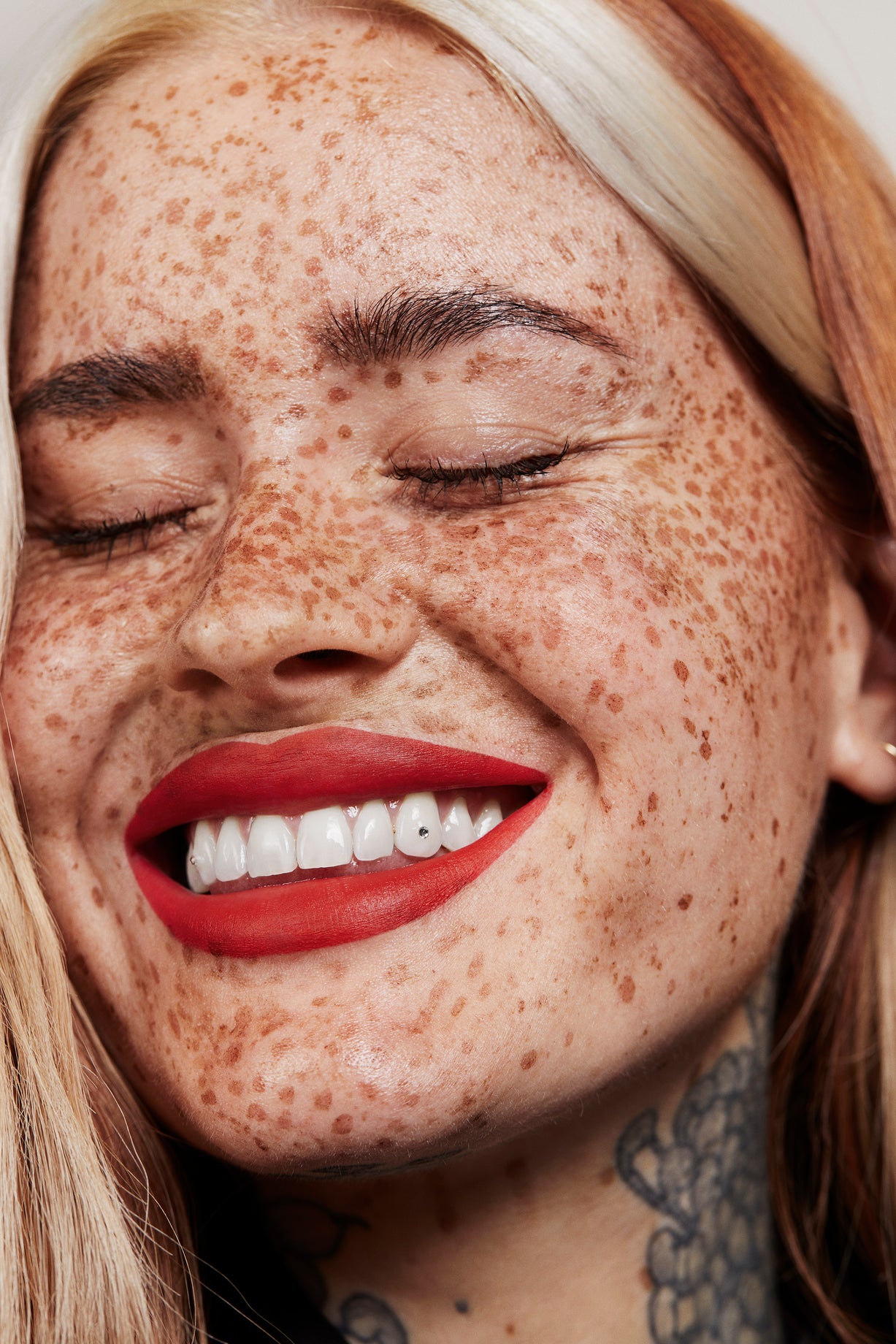 Need some inspo? Here are 5 Spring/Summer 2023 Beauty Trends
From rocking hyper-pigmented cheekbones to exuding an uber-glazed glow, here are the season's makeup trends to try – with a little help from CTZN staples. 
Seeing Red
A red lip may be one of the first things that come to mind when you think of classic makeup looks, but reds come in diverse hues and can look different each season – and on each skin tone. For its Haute Couture 2023 show, Chanel painted models' lips in an array of red shades, but really focused on one bold, red-orange lip color:
Replicate this dramatic red lip with our Code Red Kirmizi – a fiery red with orange undertones. Vegan and carmine-free, Code Red lipsticks are highly-pigmented and ultra-creamy. If you'd like to pair it with a liner, try our Lipstroke in Seis.
Shop Code Red Kirmizi  Shop Lipstroke Seis
Super Blush
Speaking of pigments, there's another beauty trend that's currently all the rage, and it also involves a major pop of color – but on your cheeks instead of your lips. Reminiscent of iconic 80s beauty looks, the "super blush" trend is fresh, fun and experimental, and it involves putting pigment into your upper cheekbones and outer corners of your eyes. You can even take it a step further into "blush draping" – sending the color up your cheekbones and over your forehead for more drama. 
To replicate this using CTZN, take your favorite Code Red shade (yes, lipstick), dab it onto your cheekbones and outside of your eyes and diffuse the color into your skin using your fingertips or a brush. We formulate all of our CTZN lipsticks so that they're not only great for your lips, but for placing pigment on your skin, too!
All Natural
We know, we know. We're jumping from one hyper-pigmented extreme to the other, where the no-makeup beauty look is still a firm favorite. But that's what's exciting about beauty – the fact that so many styles are trending, and that you can change up your look depending on your mood.
Anyway, clean-girl beauty, popularized by celebrities like Hailey Bieber, was all over the spring/summer 2023 runways, with brands like Erdem, Missoni and Zimmermann opting for no-makeup makeup on their models. We have the absolute perfect product (well, 25 to be precise) for this: Our Nudiversal Lip Duo. Pick the shade that matches your skin tone best, and use it on your lips, cheeks and even eyes, creating an entire natural-makeup look with just one product. Our CCO Sir John will teach you how to do this here.
Go for the Gold
There was a time when chrome metallic eyes and glitter showers were reserved solely for the winter festive season, climaxing at New Year's Eve. That time is no longer, CTZNs. Call it glitterati or disco fever, metallic hues with lots of shimmer are back with a bang for spring/summer 2023, thanks to the wider Y2K revival. At London Fashion Week, Halpern used gold and glitter to highlight models' eyes, making them the focal point of the face:
Jump headfirst into this trend by painting your lids in a glimmering shade of CTZN Gold, our jelly-like eye-shimmer that dries like a powder and is universally flattering.
Get that Glaze
Radiant and ethereal, this super-dewy wet-makeup-look that gives the face a luminous glaze is attracting makeup aficionados from TikTok to catwalks. The high-shine highlight tends to accentuate the upper cheekbones – see how Erdem mastered the look for its spring/summer 2023 show:
This mermaid-like beauty look is wonderful to admire, yet often challenging to achieve, but it's literally what our Globalm was made for. The lightweight balm creates a glowy shine wherever you place it – we recommend it for the lips, eyelids and of course, cheekbones.
Which of these spring/summer 2023 beauty trends will be your go-to look this season?
More from ctzn world More from ctzn world More from ctzn world More from ctzn world More from ctzn world More from ctzn world More from ctzn world More from ctzn world More from ctzn world More from ctzn world More from ctzn world More from ctzn world More from ctzn world More from ctzn world More from ctzn world More from ctzn world More from ctzn world More from ctzn world More from ctzn world More from ctzn world More from ctzn world More from ctzn world More from ctzn world More from ctzn world More from ctzn world More from ctzn world More from ctzn world More from ctzn world More from ctzn world More from ctzn world More from ctzn world More from ctzn world More from ctzn world More from ctzn world More from ctzn world More from ctzn world More from ctzn world More from ctzn world More from ctzn world More from ctzn world More from ctzn world More from ctzn world More from ctzn world More from ctzn world More from ctzn world More from ctzn world More from ctzn world More from ctzn world More from ctzn world More from ctzn world More from ctzn world