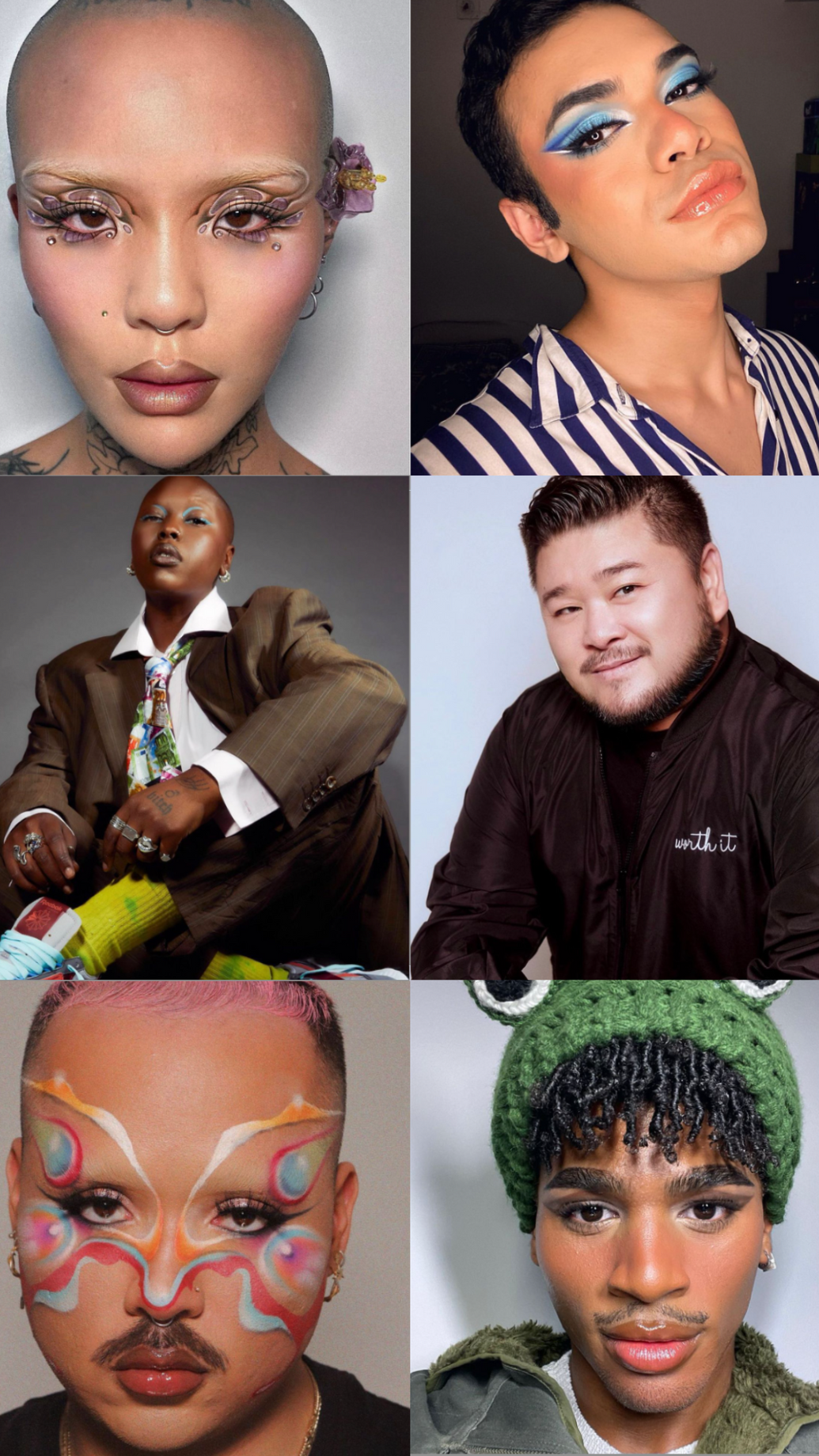 Pride Month: 6 MUAs and Beauty Influencers we're loving!
These are the LGBTIQA+ beauty experts currently at the top of our feeds
June is Pride Month, and to celebrate, we're rounding up some of our favorite LGBTIQA+ makeup artists on social media. From up-and-coming beauty influencers to more established makeup gurus, these accounts embrace identity unashamedly, while serving up fabulous faces. Support, follow and bookmark their posts for your beauty inspo:
She had us at her Instagram bio description – "the unapologetic Queer black woman of your dreams". London-based Char Ellesse, a podcaster and founder of online storytelling community "Girls will be Boys"' discusses all things  gender, race, identity and sexuality on social media while flaunting bold beauty looks – think shaved head, bleached brows, neon eye makeup, heavily lined lips – the works. 
Reviewing beauty products with engaging commentary and killer background tracks, LA-based Jakobe Jay is one to watch on TikTok and Instagram. Focusing on products like blushes (he MASTERS a beautiful rosy cheekbone glow) to sunscreens that suit melanated skin tones, Jakobe's videos will make you smile – and motivate you to up your own makeup game – whenever they appear on your feed.
From perfecting the neutral, fresh-faced beauty look to nailing evening glam time and again on his roster of celebrity clients from Zendaya to Sandra Oh, Allan Avendano is more than just a name to know in Hollywood. A fashion stylist-turned-self-taught-makeup-artist, Allan was recently named an inaugural member of the L'Oreal Paris League of Experts, which is committed to inclusivity and sustainability.
A tattoo enthusiast and makeup artist with a background in painting, Toronto-based Malaysian-Canadian Mei Pang blurs boundaries with her wearable art. Appearing in a Fenty Beauty show and collaborating with the biggest names in beauty, her edgy-yet-ethereal aesthetic is absolutely breath-taking. Follow her for inspo, but good luck re-creating her spectacular looks!
"Stop labeling and start living," says Indian beauty influencer Deep Pathare. His grid combines infectious charisma with colorful and experimentative beauty looks and occasional fashion #ootds. Talking all things makeup and skincare, Deep's South Asian attitude is a breath of fresh air in a global community of beauty influencers that often lacks representation from the Indian subcontinent. 
Butterflies, batwings, and serpent-like swirls around the eyes, and rainbow-hued cat-eyes completed with glossy nude lips. Need we say more? Michael Brooks' beauty aesthetic is a concoction of bright colors and artistic expression. If avant-garde makeup and no-rules beauty fascinates you, then this London-based creative is definitely one to add to your "following" list.
More from ctzn world More from ctzn world More from ctzn world More from ctzn world More from ctzn world More from ctzn world More from ctzn world More from ctzn world More from ctzn world More from ctzn world More from ctzn world More from ctzn world More from ctzn world More from ctzn world More from ctzn world More from ctzn world More from ctzn world More from ctzn world More from ctzn world More from ctzn world More from ctzn world More from ctzn world More from ctzn world More from ctzn world More from ctzn world More from ctzn world More from ctzn world More from ctzn world More from ctzn world More from ctzn world More from ctzn world More from ctzn world More from ctzn world More from ctzn world More from ctzn world More from ctzn world More from ctzn world More from ctzn world More from ctzn world More from ctzn world More from ctzn world More from ctzn world More from ctzn world More from ctzn world More from ctzn world More from ctzn world More from ctzn world More from ctzn world More from ctzn world More from ctzn world More from ctzn world