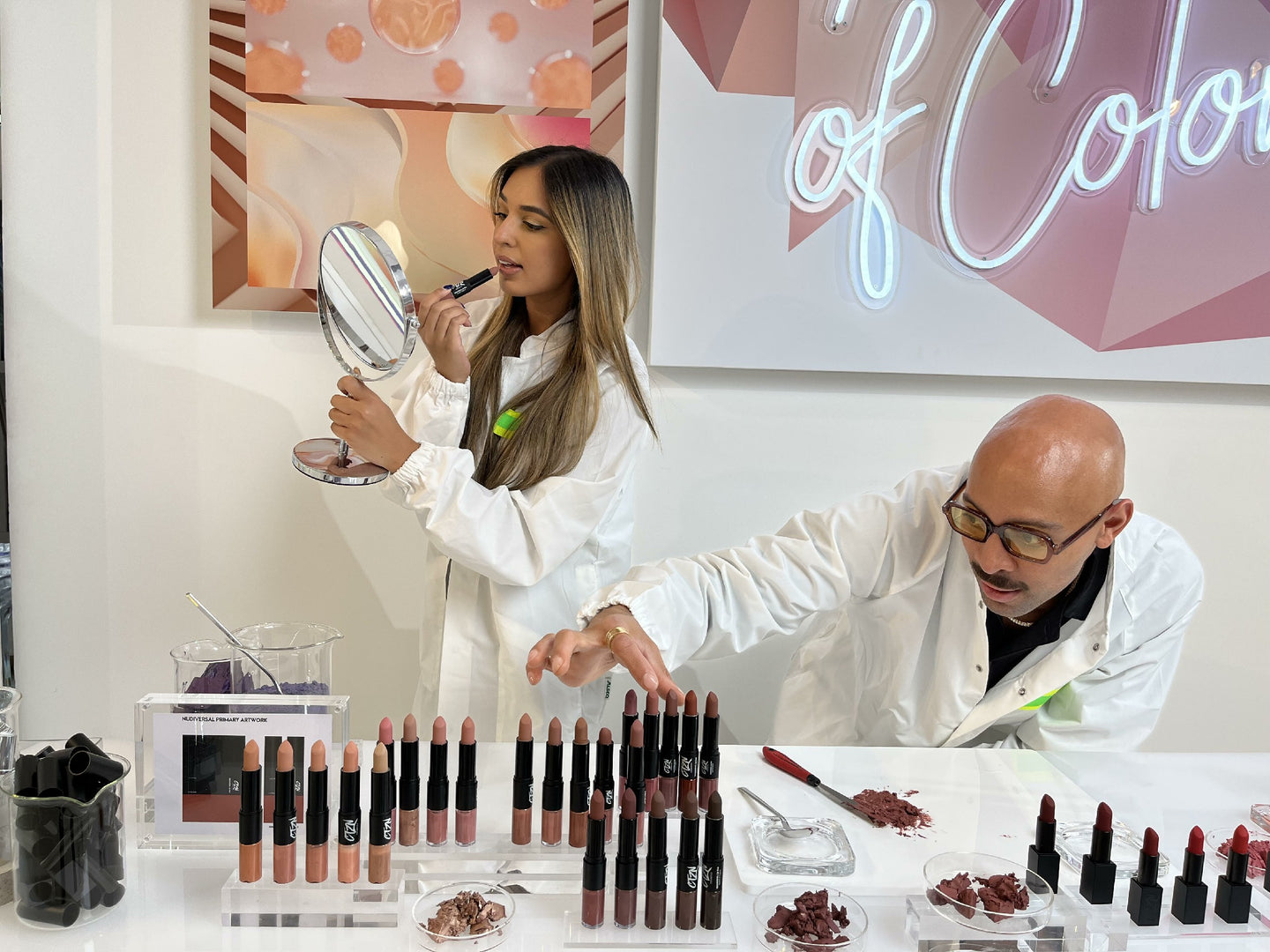 Eye Elements: A CTZN x Sir John beauty partnership for the books
Ever since celebrity makeup artist Sir John was appointed CTZN's Chief Creative Officer last year, we've been busy at work putting together our first product as a team. We're thrilled to have finally released Eye Elements, a CTZN x Sir John first, and our official foray into the eye makeup category!  
Inspired by the elements of the Earth, these dual-ended eyeshadow sticks feature rich matte shades on one side and striking shimmer shades on the other, which can be effortlessly blended to create eye-catching looks. A "one-swipe wonder" with pigment pay-off that shows up beautifully on all complexions, Eye Elements is available in 7 earthy shades, tailored to specific skin tones. 
The collaboration came alive in our campaign shoot, which took place in Sir John's very own LA studio. We saw our CCO shine in his element as he directed the Eye Elements beauty looks, which also feature our Nudiversal lipstick duos. From neutral aesthetics to sultry eyes and edgier experiments, Sir John's expertise and creative touch took the campaign to a whole new level.
"I love the idea of a multi-use product. It saves time and allows you to be creative with the application process," says Sir John. "This look has layers. You could start out with just a shimmer for an effortless daytime look. Try using the matte by itself for a classic smoky eye. Or you could dial it up with both for a night out."
As a team, we saw this collaboration through from inception through production, and every step in between. From brainstorming shade names in his living room to shooting the campaign in his studio, Eye Elements is a project close to all of our hearts. 
Watch this behind-the-scenes footage of Sir John with our co-founder Naseeha at the lab in Milan:
Our Eye Elements campaign celebrates the Earth – the one home that all CTZNs of the world share – and the mood of our campaign reflects the idea that regardless of our cultures, countries or colors, we're all equally a part of this holistic collective. We thought it was a great opportunity to involve our CTZN Fam in the shoot, so Sir John put out an open casting call on Instagram, from which we chose three models. Other models in the campaign were recruited from our global CTZN community.
"We wanted to create a product that continued to reflect the inclusivity that CTZN represents. Eye Elements has a range of shades that appeals to different tones by illuminating their beauty, and even compliments all undertones. It's definitely in my arsenal of go-to items," says Sir John, who has already begun using Eye Elements on his celebrity clients.
Shop Eye Elements now

More from ctzn world More from ctzn world More from ctzn world More from ctzn world More from ctzn world More from ctzn world More from ctzn world More from ctzn world More from ctzn world More from ctzn world More from ctzn world More from ctzn world More from ctzn world More from ctzn world More from ctzn world More from ctzn world More from ctzn world More from ctzn world More from ctzn world More from ctzn world More from ctzn world More from ctzn world More from ctzn world More from ctzn world More from ctzn world More from ctzn world More from ctzn world More from ctzn world More from ctzn world More from ctzn world More from ctzn world More from ctzn world More from ctzn world More from ctzn world More from ctzn world More from ctzn world More from ctzn world More from ctzn world More from ctzn world More from ctzn world More from ctzn world More from ctzn world More from ctzn world More from ctzn world More from ctzn world More from ctzn world More from ctzn world More from ctzn world More from ctzn world More from ctzn world More from ctzn world